Five Steps to Financial Success in Retirement
eBook Download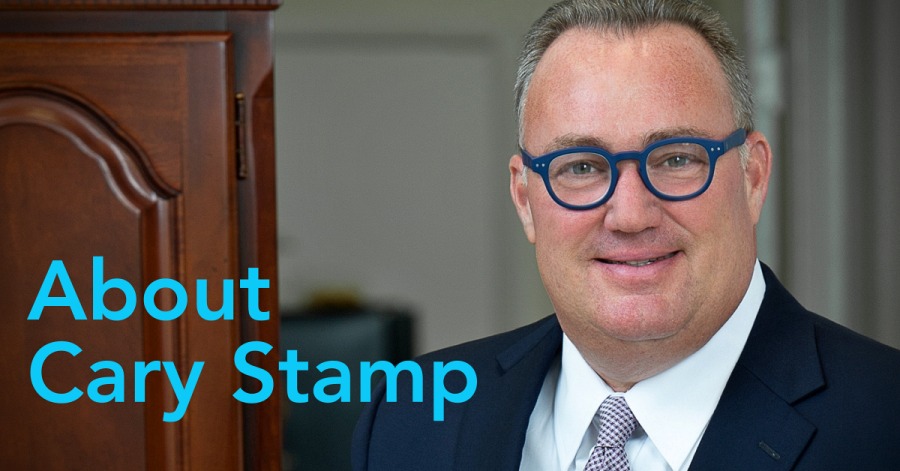 Cary Stamp is a bright mind in financial management and planning. With small firm values and big firm expertise, his wealth management enterprise, Cary Stamp & Co, is annually ranked among the top national producers* affiliated with Commonwealth Financial Network, the top-ranked broker-dealer for independent investments advisors in the U.S. (Commonwealth was ranked 'Highest in Independent Advisor Satisfaction among Financial Investment Firms, by J.D. Power,* for the sixth consecutive time).
After early career success in the brokerage field, Mr. Stamp launched his firm almost 20 years ago upon witnessing the extreme need for expert financial advice and fiduciary advocacy. He possesses a wealth of knowledge in tax, retirement, and estate planning laws and strategies, and holds five professional designations/certifications:
CERTIFIED FINANCIAL PLANNER™ Professional
Accredited Investment Fiduciary®
Accredited Estate Planner®
Chartered Advisor in Philanthropy®
Certified Divorce Financial Analyst™
Cary's accomplishments are founded upon advising high-net worth individuals, successful business owners and executives, and affluent multigenerational families with independent, insightful analysis and planning of all aspects of their financial lives—intently focused on clients' best interests. Cary has written many articles on financial advisory topics and has been quoted in print and on wealth management broadcast media.
* Recognized as a Leader's Level advisor for 2018, a distinction was on annual production attained by just 7 percent of advisors affiliated with Commonwealth.
* Commonwealth Financial Network® received the highest score in the independent advisor segment of the J.D. Power 2010, 2012, 2013, 2014, 2018, and 2019 Financial
CARY STAMP, CFP®, AIF®, AEP®, CAP®, CDFA™  |  Founder & Financial Advisor  |  info@carystamp.com
NOTE: Your information being collected for future marketing opportunities. You will be able to unsubscribe from receiving messages at any time. If you aren't interested in learning more about Cary Stamp & Co.'s services, or if you do not want your information used, please do not provide it. Otherwise, the information collected will be used for these purposes.