MEET THE TEAM:
Liz Bradley
Executive Assistant
Calendars, Antiques, and Loved Ones
Anyone who's trying to get in touch with Cary Stamp knows all roads go through Liz Bradley.
Liz has been Cary's executive assistant for more than two years and is charged with managing his schedule. "His calendar is demanding," she said, noting the challenge of "dealing with different time zones" and a boss who she said "remembers everything" and has a "ton of energy."
Back in her school days, Liz thought she would become a teacher, but she ended up taking business classes that led her to a career as an executive assistant. She spent many years at both IBM and Rendina Companies, a health care real estate developer. After working part-time at a nursing home, Liz missed her role as an Executive Assistant and felt blessed when she found a position that offers opportunities at Cary Stamp & Co: "Cary encourages our entire staff to learn, grow, and improve. He's open-minded about trying new things and thinking outside the box."
While much of Liz's role keeps her behind a computer, she looks forward to meeting clients: "I really enjoy meeting and getting acquainted with the clients I've spoken with on the phone." She is particularly interested in helping older clientele. "I have a soft spot for senior citizens," she said, pointing out that many of them are on their own in Florida. Previously, when Liz worked at the nursing home she found helping seniors to be rewarding.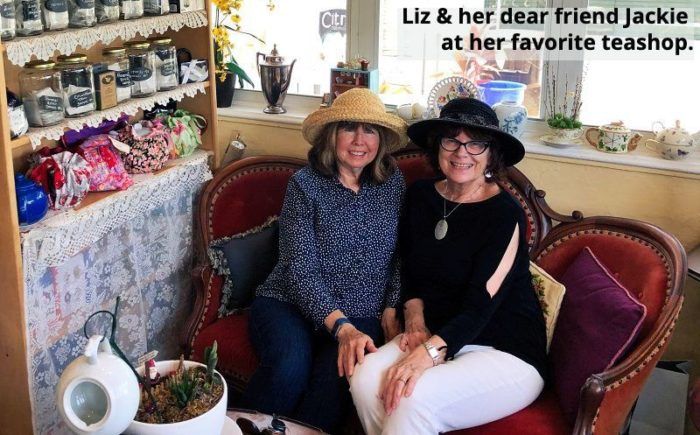 A long-time Florida resident, Liz was born and raised in Toronto and still views Canada as her home at heart. She also has strong ties to Ireland as her parents were both born in Belfast, and her family moved there for four years when Liz was five years old. She recalls the benefits of living near both sets of grandparents and has fond memories of spending time in her grandmother's big old house. Later in life, when her mother-in-law introduced Liz to antiquing, it reminded her of that house in Ireland and sparked a passion that she said "occasionally gets out of hand. We'll go to an auction and maybe buy more than we need to," she said with a chuckle.
Liz enjoys reading, traveling and volunteering with her church. While Cary encourages her to read the occasional financial book, Liz prefers the escape of a romance novel. In fact, her own romance led her to a church, St. Andrew's Episcopal Church in Lake Worth. She and her now-husband John were on a blind date when they walked by what she called a "cute little church." Once engaged, they joked about getting married in Las Vegas, but ultimately decided St. Andrew's was the place to take their vows.
Since their wedding in 2001, Liz and John have served on the Vestry and the Altar Guild, participated as ushers, and enjoyed social outings like wine tastings. In addition, she travels annually with a group of girlfriends from the church. They gather with wine and goodies and share laughs including a one-time trip to a rodeo in cowboy boots and hats. This year's destination is Miami Beach.
Liz also travels often to Port Charlotte on Florida's Gulf Coast where she and John own a home on a canal. They average two weekends a month there and enjoy the slower pace in that part of the state.
Back on the east coast, Liz still finds time for some self-care during the workweek, and she credits her employer for enabling her to get to Jazzercise. "I realize how lucky I am that Cary is flexible so that I can work around exercise class. He knows it's important for his team to be healthy."
Liz has lived in South Florida for more than 30 years and currently resides in Wellington.
---
SCHEDULE A CONSULTATION
Schedule a Complimentary Introductory Call with Cary or a member of his financial advisory team. We look forward to learning about you and sharing our thoughts.