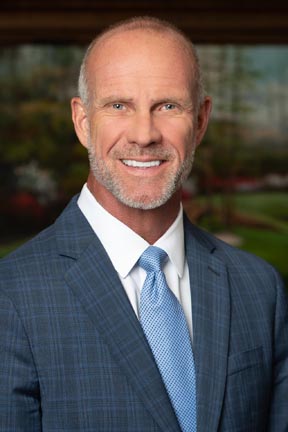 Michael Reed serves as Chief Strategic Officer and Chief of Staff for Cary Stamp & Company. With a doctorate in operational management, advanced certifications in mergers and acquisitions (M&A), over 20 transactions in his history, and a passion for creating inspired, employee-focused cultures, Michael has become a highly respected executive in the wealth management field. He enjoys bringing visions to life, inspiring team collaboration, and executing strategic plans.
Michael's role at Cary Stamp & Company is to spearhead the M&A and strategic partnership strategies while ensuring the company's culture is cultivated and protected. He works closely with the leadership team to keep the vision and mission infused in every aspect of the services provided to clients and how the team members are considered and compassionately inspired.
Prior to entering the financial services profession, Michael earned an international reputation in the highly specialized field of perioperative spine care. He was regarded as a forerunner in the concierge healthcare space. In 2011, his firm was purchased by the Hospital for Special Surgery (HSS), making national news as the first acquisition by HSS in their esteemed 150-year history. Appointed Director of HSS Florida, Michael served on their executive team to establish a footprint for HSS in the Southeast.
In 2014, the North American Spine Society recruited Michael to launch the North American Spine Foundation where his team raised millions for Spine 10 x 25, a national initiative that was created by his group to address US spine disability. Most notably, under Michael's leadership and advocacy in Washington, DC, they successfully secured a bipartisan congressional resolution (H.Res.432 in the 114th Congress) to address this important cause.
In 2017, Michael was appointed Chief Operating Officer of a newly established wealth management firm in the southeast. He was instrumental in helping to create a company with three subsidiaries, 14 offices operating in 11 states, and 65 employees managing $2.5 billion in individual assets. Their unique platform business model with a strong emphasis on operational excellence, inorganic growth, and an employee-centric culture garnered national attention. Those years and subsequent consulting successes secured Michael's reputation as a top performing operations and M&A specialist.
Outside of Michael's professional endeavors, he enjoys spending time with his family, adventure traveling, and racing in endurance events such as marathons, ultramarathons, and ironman distance triathlons.